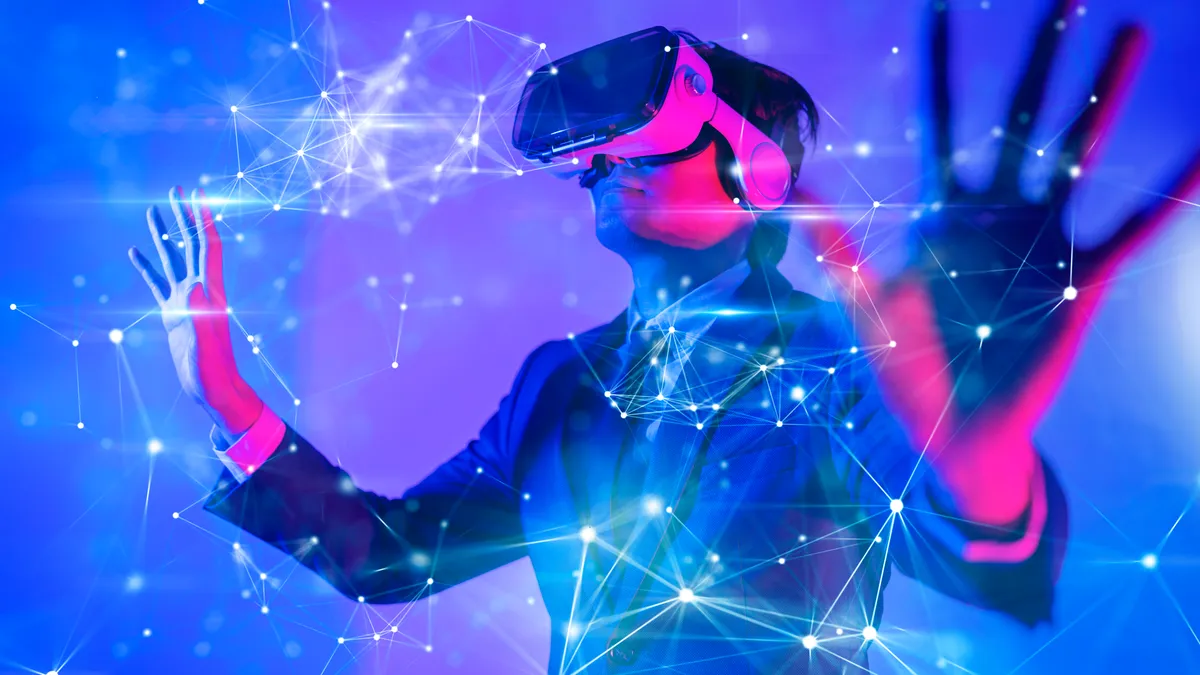 As we step into the new year, it's exciting to anticipate the future and all the possibilities it holds. The future is uncertain. However, predicting it can be an intriguing and thought-provoking exercise. As an early adopter in crypto and NFTs, and having worked in the AR/VR industry at Treeview for the past seven years, here are my predictions for 2023.
👨‍🚀 1. A Renewed Sense of Optimism for the Future
The economy has been in a bear market since the end of 2021, with the NASDAQ down 30%, Bitcoin down 70%, and tech companies like Alphabet, Amazon, and Meta down over 40%. Layoffs and uncertainty have been widespread, and inflation has reached its highest level since the 1980s.
While 2022 was a difficult year for the global markets, it can be seen as a necessary correction to the post-Covid overheating of the economy caused by economic stimulus, overvaluations in equity markets, excessive hiring in the tech sector, and over excitement about new technological and cultural changes.
As we enter 2023, it appears that the worst of the economic downturn is over. Inflation has been decreasing for the last 6 months, equity markets have corrected, and unemployment rates have returned to pre-pandemic levels. The outlook for the future is improving.
Historically, economic downturns in the US have lasted 8–18 months. The current bear market began in December 2021 and it seems to be nearing its end or we may already be at the beginning of the next economic cycle.
Given the maturity of new technologies, cultural shifts introduced post-Covid and the start of the next economic cycle, we will see a renewed optimism in the future that will drive a new wave of innovation likely to reshape the world in ways we can't yet imagine.
🚀 2. A New Generation of Startups
In 2022, the tech industry experienced one of the largest rounds of layoffs since the dot-com crash of 2000. Although 79% of those who were terminated were able to find new jobs within three months, a significant number of highly skilled and innovative individuals with entrepreneurial spirit chose to start their own bootstrapped startups instead of seeking new employment.
These new startups are currently busy building and developing in the background, and we can expect to see a new generation of products and services as they launch to market in 2023.
It's worth noting that during the 2008–2009 recession startups like Airbnb, Slack, WhatsApp, Uber and Instagram were founded and they have disrupted their respective industries. In the coming year, we will see the emergence of many startups that will dominate the next economic cycle.
🧠 3. Realization of the Full Impact of AI on Society
In late 2022, OpenAI launched its latest generation of artificial intelligence technology, including ChatGPT-3 and Dalle-2. These advanced AI technologies are available for integration into third-party products and services through APIs.
As we move through 2023, we will see an increasing number of startups and technology-focused companies integrating this next-generation AI technology into various aspects of their business operations, from streamlining processes and increasing efficiency to driving growth and innovation.
As new products, services, and business processes leverage AI, we will begin to understand the true extent of its disruptive impact on various industries and jobs. Some of the most obvious areas of disruption include copywriting, customer support, hospitality, law, research, and many creative roles, but the full societal impact is yet to be fully understood.
As new AI-powered products and services launch, we will gradually come to realize the true level of disruption that this technology will bring in the coming decade.
💡 4. A New Perspective around AR/VR Technology
Many experts believe that Augmented Reality (AR) and Virtual Reality (VR) will be the next computing platform. In the 1970s and 1980s, computers were primarily used in workplaces, in the 1990s and 2000s, personal computers were used at home, and in the 2010s and 2020s, smartphones are being used at all time. What's next?
VR allows a user's mind to enter the digital world, while AR brings the digital world into the physical world. These technologies are disrupting the traditional concept of a "screen," the window into the digital world, and breaking down the barrier between the digital and physical worlds. They enable us to engage with computers in the same way we interact with the physical world, and may even disrupt our perception of reality.
This year, we will see a shift in the narrative around AR/VR. While some may be familiar with devices like the Meta Quest Pro or Microsoft Hololens 2, most people are not aware of them or their capabilities. Adoption of AR/VR will likely follow a similar trajectory as the personal computer, starting with its use in professional settings before becoming more widespread in everyday life.
AR/VR is already being used in a variety of industries, including training and education, media and entertainment, medical equipment, mental health, remote collaboration, marketing, retail, and manufacturing. As more people begin using AR/VR at work, they will begin to see its value and start using it in their personal lives as well.
As an industry, we should prioritize the development and implementation of AR/VR technology in B2B, enterprise, and industrial applications. By addressing real-world industry use cases and driving adoption in these areas, we can lay the foundation for wider use in everyday life. AR/VR technology has the potential to be as revolutionary as the personal computer, and its adoption may face similar challenges. However, the potential impact of this technology is undeniable, and its integration into our daily lives is an inevitability that will fundamentally change how we interact with the world.
🥽 5. The Next Generation of AR/VR Hardware
As the founder of Treeview, a boutique AR/VR software development studio, I have witnessed the evolution and expansion of the use cases for this technology with each new hardware generation. Beginning with the early Oculus Developer Kit and progressing to the recently launched Meta Quest Pro, we are now at the start of a new era in AR/VR hardware.
This next generation of AR/VR devices will introduce new key advancements that will unlock a new generation of industry use cases. These new devices include the Meta Quest Pro, Meta Quest 3, Vive XR Elite, Pico 4, Sony Playstation VR 2, Valve Deckard, and Apple's highly-anticipated XR headset.
Based on certain industry leaks, Apple's first XR headset may be a high-end device geared towards top-tier creative roles in industries such as animation studios like Disney/Pixar, AAA game developers, the automobile industry, and top-tier architecture and industrial design studios. I expect that, this year, they will announce a developer kit for software developers, and the official consumer release of the headset will likely be in 2024 or 2025.
Apple has a history of creating products that define generations, such as the Macintosh and its role in the PC revolution, and the iPhone, with it's role in the mobile revolution. Many experts anticipate that Apple's entry into the AR/VR market will be a defining moment for the industry and the start of a multi-decade long period of innovation in the field.
As Mark Twain said, "History never repeats itself, but it does often rhyme."
🏦 6. The Next Crypto Bull Market Cycle
For those who have been involved in the crypto market for a long time, the current 60–70% crash in the market is not surprising. The crypto market is still establishing its place in the world economy, and each cryptocurrency has its own unique value proposition and purpose.
This crypto winter is likely to result in the failure of 95% of cryptocurrencies and crypto projects. Incidents such as the Luna and FTX disasters will lead to increased scrutiny from lawmakers and governments. The high level of public involvement and capital loss has also led to a change in public perception of the industry.
As the macro economy recovers this year, we can expect to see renewed interest in the crypto market. The market will have been cleaned of unreliable and fraudulent actors, and we can expect to see the next market cycle start in late 2023, which will likely be the start of the next multi-year bull market in the crypto space.
🎫 7. Evolving the Narrative of NFTs
NFTs were at the forefront of the global spotlight in 2021, but have faced challenges and an identity crisis in 2022. In the past few years, we have seen a wide range of technological, social, cultural, governance, and business experiments surrounding this technology. These experiments have covered a variety of topics, such as scarcity in digital art, digital identities, access to exclusive clubs, digital-physical twin products, decentralized autonomous organizations (DAOs), and many more.
However, amidst all this experimentation, the most significant innovation brought about by NFTs is that they have become the protocol for digital ownership on the internet.
Though 98% of these projects may fail, by filtering out the noise, it is clear that Yuga Labs, the creators of the Bored Ape Yacht Club, have emerged as a leader and primary innovator in this space. With their highly talented and well-resourced team, we can expect to see great things from them in the coming year.
☢️ 8. Accelerating the Transition to Deprecate Fossil Fuels
Counterintuitive to what many predicted, fossil fuel prices have skyrocketed in the last 12 months, primarily due to the energy crisis caused by the Ukraine-Russian conflict and the lack of reliable alternatives outside of renewable sources.
The anti-nuclear sentiment of the past few decades has hindered efforts to transition away from fossil fuels and towards a sustainable energy future. Nuclear power is widely considered by energy experts to be the ultimate energy source companion to renewables, providing a reliable, efficient, clean, and sustainable source of energy.
In the coming year, we may hopefully see a peaceful resolution to the Ukraine-Russian conflict and a renewed push towards advancing the transition from fossil fuels to nuclear power. This could lead to a more decentralized energy grid, providing more reliable and sustainable energy options for all.
🧑‍🎨 9. The Emergence of a New Generation of Artists
The evolution of art has always been closely tied to the societal, cultural, and technological advancements of its respective era. Examples include the Renaissance in the 15th century, the Roaring Twenties, and the 1960s/1970s hippie movement.
Today, we are witnessing significant innovations, changes, and evolutions in society, culture, and technology. These advancements will inspire a new generation of artists who will drive the cultural response to change.
This new artist movement will have access to a wide range of new mediums, a decentralized audience, various previously non-existing resources, and a heightened level of consciousness. They will be able to explore new realms of ideas, communities, empathy, identity, and meaning in the human experience.
This phenomenon will not be restricted to a specific date, but we can expect to see important artistic achievements throughout the year. As history has shown, heavy criticism from the status quo is often a sign of artistic innovation. The recent NFT and AI Art controversies are examples of this.
🧑‍💻 10. Company Culture will Determine the Success or Failure of Many Organizations
Company culture is not just a set of mission and vision statements, but a shared belief system and set of fundamental values that guide the actions and decisions of all members of the organization. It is a sense of common purpose that permeates the entire organization.
The last few decades have seen significant innovations in organizational culture, led by companies like Netflix, Google, Meta and the tech startup scene. However, the COVID-19 pandemic and the shift to remote work have created a culture shock for many organizations. Traditional organizations have faced challenges such as how to maintain productivity, sense of belonging, and authority in a remote environment. As companies begin to return to the office, a cultural clash is starting to occur.
Organizations that can create coherence between their culture, values, and work formats will thrive, while those that cannot may struggle to survive. Talented individuals understand the importance of selecting an organization that aligns with their personal values and goals, in which they can invest their time, energy, and talents.
As the business environment changes, the culture of a company will play a crucial role in determining its success or failure in the coming year.
🏁 Conclusion
This is an exciting time to be building and creating. The current decade is just beginning and we are likely underestimating the magnitude of change we will witness in the next eight years.
From technology to society, culture, and human consciousness, everything will be transformed. When we look back on 2023, we will likely view it in the same way we currently view the pre-smartphone and pre-social media era. Embrace the opportunities and challenges that lie ahead and make the most of this exciting new decade!